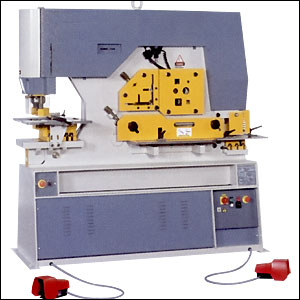 We carry a full line of Hydraulic Iron Workers Including:
Kingsland
Piranha
Geka
Edwards
Scotchman
Fabmaster
Punches and Dies for all makes
Special shapes and custom made Punches and Dies
Spare parts for all makes
The Fabtec range of single or dual operator ironworkers are heavy duty well engineered and versatile to suit all situations. These universal machines start
from 30 Ton to 180 Ton
and come with a range of standard tooling for punching, shearing and notching. We can also supply a wide variety of custom made tooling, shear blades, spare parts and service.

Contact us with your requirements and we will offer the correct solution for your needs.